So, you need a a reliable tow truck? No problem! When you choose a Ram truck, you're outfitting yourself with a rugged road-tackler with the strength to haul just about anything. With so many options, like the Ram 1500 Tradesman or the Ram 3500, how can you know which one is the best for you?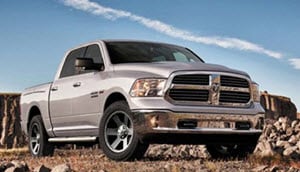 Luckily, Goss Dodge Chrysler is here to help you answer that question. With our valuable Ram Truck Towing Capacity Guide, drivers of Chittenden County, South Burlington, and St. Albans will have the tools needed to grab ahold of the road with their cargo in tow.
Read on to find out which truck is right for you…
Ram Trucks: Heavy-Duty Transporters
No matter which type of Ram pickup you're looking for, you'll be supplied with class-leading power. With so many engine choices, you'll never tire of what our lineup offers.
Take the 2017 Ram 1500 Tradesman with all-wheel drive. The 5.7L V8 engine earns 10,410 pounds of maximum towing, which is perfect for taking your boat with you to the beach or hauling your ATV for some off-roading fun. Plus, with the help of 395 horsepower and 420 lb-ft of torque, your pickup won't bat an eye when accelerating onto the highway.
It's hard to believe that any vehicle could carry more weight than that, but Ram has made the unimaginable possible with the 2017 Ram 3500 SLT. This truck offers a jaw-dropping 31,170 pounds of maximum towing capacity. Its available 6.7L CUMMINS® diesel motor keeps this pickup cool, calm, and collected with 385 horsepower and up to 900 lb-ft of torque.
The towing abilities of the 2017 Ram 3500 will help you to effortlessly pull a horse trailer or RV. That way, your job on the ranch or your camping plans won't be disrupted by a vehicle that can't get the job done.
On top of that, the extensive list of trim options offered with Ram pickup trucks allows you to easily mix and match engines to get the vehicle with the capability you need for any construction site.
Your Truck and Its Towing Abilities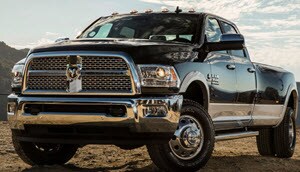 What many truck-enthusiasts don't realize is that your pickup's overall design can affect the amount of weight that it can carry. Whether you choose an all-wheel drive vehicle or just want some extra space for your kids, these factors will influence your truck's performance.
Cabin Capacity
With a regular cab, more of your vehicle's payload can be dedicated to your towing capacity simply because you aren't bringing along many passengers.
With that in mind, a crew cab will increase the passenger volume inside your truck, but will slightly reduce your pickup's hauling potential. In addition, if you opt for a longer box, you may be able to tow a little bit less, but you'll have the extra storage room provided by the truck bed.
Drivetrain
Furthermore, your driving selections will also affect your truck's power. Front-wheel drive automobiles are lighter, which translates into more pulling capacity. On the other hand, all-wheel drive trucks provide better handling along slick roads, which is especially important while towing large cargo.  
So, depending on what you need out of your truck, it's wise to keep in mind your car's overall features and structure.
Find Your Ram Truck Today!
When you're on the job, having a vehicle without the power to hoist your tools and cargo can be frustrating. But with the incredible towing capacity of pickups, like the Ram 1500 or the Ram 2500, you'll never question the abilities of your vehicle again.
So, when drivers of Chittenden County, South Burlington, and St. Albans are ready for a tough tower, stop by Goss Dodge Chrysler and schedule a test drive today!
2019 Ram 1500 Towing Capacity