If you're looking for a spacious and capable SUV, there are no two better vehicles than the 2016 Dodge Journey and the 2016 Kia Sorento. Equipped with a variety of performance features and technologies, these two SUVs get you to where you need to go in Burlington and Chittenden County with comfort and ease.
But which is best for you? To help you decide between the 2016 Dodge Journey and the 2016 Kia Sorento, check out this comparison provided by Goss Dodge Chrysler below.
Performance and Capabilities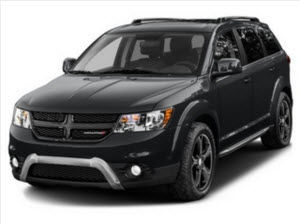 If there's one thing the 2016 Dodge Journey and the 2016 Kia Sorento are known for, it's their ability to produce a dependable performance without draining the gas tank. Both come with powerful engine options with advanced performance technologies so they can deliver great power and exceptional fuel economy.
Both the Dodge Journey and the Kia Sorento also have impressive towing capabilities and overall performance. When properly equipped, the Journey gets 2,500 pounds of standard towing capacity on most trims. It also offers a number of suspension options for any of driving situation.
[View our Dodge Journey Inventory Online]
The Kia Sorento can deliver great towing capabilities, but only for a handful of its trims. Most of its trims can only tow up to 2,000 pounds. On top of that, the Sorento lacks suspension options, so you can't customize your vehicle to perform to your exact preferences.
Interior Amenities
The 2016 Dodge Journey and the 2016 Kia Sorento offer ample interior room for all families big and small. Both have about a maximum of three rows of seats and a spacious cargo area to store all the items you need for the road ahead. These SUVs also come with a variety of comfort amenities, including heated seat and a dual-zone automatic climate control system.
In terms of interior technologies, the Dodge Journey and the Kia Sorento feature an advanced infotainment system. The Uconnect® system in the Journey provides access to an available navigation system, a slew of entertainment features and Bluetooth® services. On top of that, it offers an available Wi-Fi hotspot so everyone onboard can stay connected online while you travel.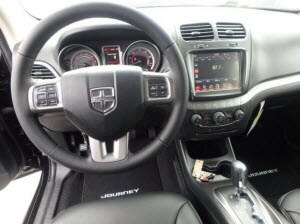 The infotainment system in the Kia Sorento is very similar. Like the Uconnect® system, it includes an available navigation system, Bluetooth® connectivity and entertainment features. Unfortunately, it does not offer a Wi-Fi hotspot.
Dodge Journey vs Kia Sorento Safety
When it comes to safety, you can trust both of these SUVs to keep you and your family protected. They each come with an advanced system of airbags, as well as a number of driver assist technologies. This includes a backup camera and a rear park assist system. Both of these can help you get a better visual of your surroundings, so you can better avoid minor accidents.
These SUVs also offer emergency services with their respective infotainment systems. However, the system in the Kia Sorento can be more difficult to use so you won't be able to access these emergency services as easily as you would in the Dodge Journey.
Which is Best for You?
The 2016 Kia Sorento is a good option, but if you're looking for an SUV to deliver a smoother performance and provide more comfort, convenience and safety, consider the 2016 Dodge Journey for your travels in Burlington and Chittenden County.
To get a closer look at the 2016 Dodge Journey, contact Goss Dodge Chrysler and schedule your test drive today.