Valentine's Day is often shared with someone you care deeply about. And luckily, the South Burlington areas offers lots of ways to make this day special.
In this informative guide, we'll give you our top three places to visit for the perfect Valentine's Day getaway in South Burlington, VT. Read all about them below and make your reservations as soon as possible.
Take Advantage of the Rejuvenating Effect of Water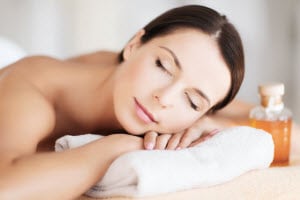 You'll want to start the day nice and relaxed, and a good way to do that is by visiting Jivana Green Spa & Salon. Jivana is Sanskrit for "the rejuvenating effect of water." This is the basis for their therapeutic treatments: using the healing power of touch, water, and relaxation, in a green spa environment.
They offer lots of massage, facial, and body treatment options from excellent therapists. And if you and your significant other want to make a day of it, then go for the Jivana Nirvana experience. It'll begin with a Tibetan Pedi-Kur Foot Therapy, full-body exfoliation, and mud wrap in a Soft Pack Float. A light lunch will then be served, followed by a 60-minute therapeutic massage and a 60-minute facial.
For more information about their other available services, visit Jivana Green Spa & Salon on Facebook.
A Modern Twist on Traditional New England Cuisine
The next part of this Valentine Day's getaway is having a tasty dinner. And at the Lakeview House Restaurant, you'll find unique dishes made from scratch using seasonal, local ingredients. The chefs here offer a refined take on classic New England dishes, which can be enjoyed in a polished-casual atmosphere.
If you love meat and cheese, then you'll be sure to enjoy the Stuffed New York Sirloin. This 10-oz cut of beef is stuffed with blue cheese and roasted garlic.
If you're more into seafood, then there's the Vermont Maple Glazed Salmon. The fresh teriyaki salmon is topped with a Vermont syrup glaze.
All entrées come with potatoes or rice plus the fresh vegetable of the day.
Visit the Lakeview House Restaurant Facebook page for photos of the restaurant and food.
An Urban-Chic Historic Bed & Breakfast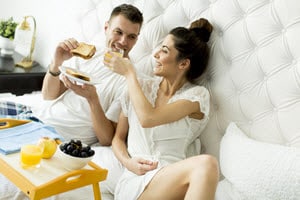 Dinner may be over, but that doesn't mean you need to go home. In fact, you can spend the night at Made Inn Vermont. This bed and breakfast describes itself in a lot of ways, including hip, historic, artsy, and eco-green.
This all-inclusive mini retreat offers plenty of amenities to make your stay as comfortable and enjoyable as possible. When you wake up in the morning, you'll get a fresh, homemade, gourmet Vermont breakfast. If you want food or a drink late at night, there's the 24/7 self-serving café.
There are even lots of pampering services for you and your sweetheart, like a hot tub and available Shaman massage therapist.
To learn more about this unique B&B, check out Made Inn Vermont on Facebook.
Spend the Day with Your Loved One in South Burlington
Valentine's Day will be here before you know it, so just follow our guide and you'll be sure to have the perfect day with the one you love.