The big game will be here before you know it, but do you know the basic details, like when and where it'll be? What about where to go to get some good grub?
Luckily, we'll tell you everything you need to know about football's biggest event in this informative guide. Read through all the FAQs below and let the countdown to big game begin!
Event Details
When it comes to checking out your favorite team at the big game, you'll need to be prepared. Therefore, we've listed some frequently asked questions below:
When's the big game? The main event will take place on Sunday, February 4, 2018.
Where will it be? This year, it'll be played at US Bank Stadium in Minneapolis, MN.
What time will it start? Kickoff will begin at 6:30 pm (Eastern) and will be broadcast on NBC.
How much are tickets? If you want to get in on the action and attend this year's game, a single ticket will cost you anywhere from over $3,000 to over $9,600.
Who will be performing at the super halftime show? This year's performer will be Justin Timberlake. This will actually be his third time performing, as he did it in 2001 (with former band *NSYNC) and again in 2004.
Where's the Best Pre-Game Food in South Burlington, VT?
Football events are generally known for two things: rooting for your team and eating delicious food. But where in South Burlington, VT, should you go to pre-game? While there are many places to choose from, below are our three favorites:
Guild Tavern: Where the Ingredients Shine
Chef and owner of Guild Tavern, Phillip Clayton, prides himself on having a team of culinary artisans who love sharing their cooking skills and passion for food. He also has a great attention to detail with everything in the restaurant, from the custom-built wood-fired grill to the brandied cherries that top their various cocktails.
If you're more interested in a unique and sophisticated menu, then you're sure to enjoy the options here. There's the Ricotta & Chive Gnocchi with autumn pesto and crème fraîche. Or you can enjoy a Prime Sirloin for you, which comes with a house or Caesar salad, two sides (like whipped potatoes or roasted vegetables), and sauces (like blue cheese butter or sherry mushrooms).
Check out photos of their other food and drink options on the Guild Tavern Facebook page.
Ruben James: Sports Bar by Day & Nightclub by Night
If you're up for watching the big game at a lively sports bar, then you'll definitely want to visit Ruben James. They have 11 TVs plus a large 120-inch projection screen behind the bar with satellite and cable packages covering all the professional football games.
They also have 20 beers on draft (with 14 that are local to Vermont) plus a nice selection of wines and liquors. And for four nights a week, the bar turns into a nightclub with a DJ spinning great tunes.
For a good pre-game meal, you can't go wrong with their chicken wings, which were voted top 10 in New England. Get them traditional or boneless, with your choice of sauce, including Golden BBQ, Garlic Parmesan, or Spicy Teriyaki.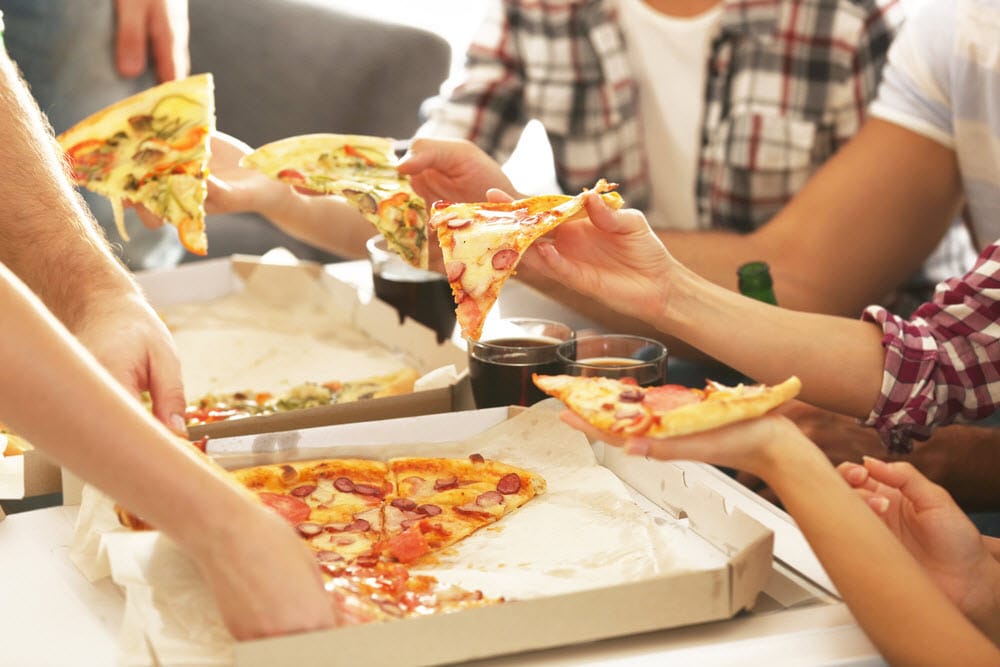 Visit Ruben James on Facebook for more info on their food and special events.
Uncle Tony's Pizza: Food Made Fresh Every Day
Uncle Tony's Pizza is a family-owned and -operated restaurant located in the heart of South Burlington. While they serve a variety of food items, like wings, subs, and pasta, they're best known for their pizza. In fact, they make their pizza sauce and dough fresh every day and use only the freshest produce in town.
They have plenty of specialty pizzas to choose from, including the Godfather Pizza. This pie consists of mozzarella, pepperoni, sausage, ground beef, ham, onions, green peppers, mushrooms, broccoli, and black olives.
Check out the Uncle Tony's Pizza Facebook page for photos of their other tasty menu items.
Are You Pumped for the Big Game?
Now that you know when and where the big game will be, you can prepare for it. And since you know the best places to pre-game in South Burlington, you'll be full and happy when rooting for your favorite team.