In Burlington, VT, you won't have to travel too far to get the rest and relaxation you crave during the summer months. With the best bed and breakfasts in the Burlington, Vermont area, you'll get everything you need to sit back, relax and enjoy the season right. Check them out below!
254 South Union Guesthouse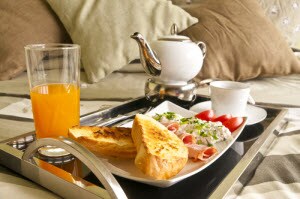 There's nothing better than a bed and breakfast in a historical site like 254 South Union Street Guesthouse. They've been named a Certified Green establishment by the Green Hotels of the Green Mountain State and are listed on the US Department of Interior's National Register of Historic Places.
Their four room options all feature air conditioning, Wi-Fi, premium cable and are stocked with local yogurts, coffee and other delectable foods. On top of that each room also includes individual amenities and designs.
The Guest Room sleeps up to four people and includes a private entrance, a gas fire place with original mantle and a queen-size sleeper sofa. The Suite sleeps up to three people. It features a separate bedroom, an eat-in kitchen, a private porch and a sitting area with queen-size sleeper sofa-bed. It also includes a private exterior stairway. The Master Bedroom sleeps up to three people and offers a larger bedroom with a walk-in closet and a separate lounge with a single sleeper sofa-bed. The Lakeview offers amazing views of Lake Champlain and the Adirondack Mountains.
245 South Union Street Guesthouse is also located in the perfect location just by the Church Street Market Place, the Burlington Boathouse and Waterfront and a slew of the area's top restaurants.
Lang House on Main Street
Converted into a bed and breakfast in 2000, the Lang House on Main Street is an 1881 Queen Anne Victorian home that brings the past together with the present for a unique guest experience.
They offer 11 guest rooms designed to make you feel more at home than any other hotel ever could. With breathtaking views of the property gardens, each one is specifically designed to help you relax. And best of all, certain rooms feature a number of amenities. For example, the Garden Spa room offers a two-person Jacuzzi, a heated floor, a kitchenette and dining area. There are also two rooms available in the Cottage House behind the main house.
And of course you can't have a bed and breakfast without great food. The Lang House on Main Street a breakfast menu served between 8 am and 10 am daily. Plus, each meal incorporates products from many local farmers and purveyors in the area.
Made INN Vermont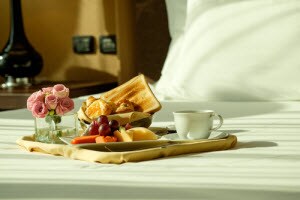 For those looking for something a bit more modern, then check out the award-winning Made INN Vermont. It's a restored 1881 Victorian Mansion that's located just minutes away from Burlington's most popular attractions.
At Made INN Vermont, you'll find four guest rooms. Room 903 is a small, intimate space complete with views of historic New England perfect for a romantic getaway. Room 904 is ideal for those looking to book an extended stay. It comes with a king TemperPedic platform bed and views of the Adirondack Mountains and the Hill District. Room 905 is the largest guest room and features a bay window seating area, a café table seating area and plush vintage 1960s winged tulip chairs for you to enjoy. Room 906 features a queen-size bed, a contemporary desk and can be connected with other rooms if preferred.
All rooms also come with under-bed LED lights, a signature in-room record player with vinyl record collection and a premium entertainment system.
In terms of breakfast, Made INN Vermont's menu is made from fresh, locally sourced ingredients. Some of the items they offer include organic coffees and teas, pastries and organic cereals.
Best of all, if you're looking for a relaxing weekend with your sweetheart, this bed and breakfast pampers you with an in-room massage performed by a visiting massage therapist.
Willard Street Inn
Willard Street Inn brings the elegance and grandeur of a country mansion to Burlington, VT. Situated right in the historic Hill District, this family owned and operated bed and breakfast is the place for rest and relaxation.
There's unique furniture and appointments for each of their 14 guest rooms. Plus, they all include the amenities needed to help you relax. On top of that, you're welcome to bring your own beverage and when you want to enjoy a beer or a glass of wine, Willard Street Inn will provide you with openers, ice and buckets.
And if you're craving some good food in the morning, your room includes your choice of three breakfast entrees, pastries and much more. Best of all, they serve their own signature blend of Vermont's Capital Grounds Coffee to help you start your day on the right foot.
The best way to enjoy the upcoming season is relaxing right in town. So be sure to book your stay at the best bed and breakfasts in Burlington, VT, today!