Say it with us: It's the most wonderful time of the year! From the holiday lights on Church Street to the wintry wonderland that Lake Champlain becomes, we can't think of any better place to spend the holiday season than right here in Chittenden County. We're a tight-knit community that prides ourselves on local living, and the holidays are one of the best times to support local businesses.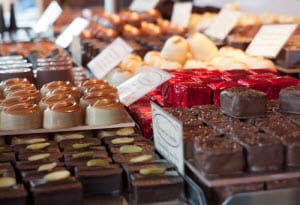 While the farm-to-table food culture here in Vermont is incredible in its originality and far reach, that local mindset can extend much further than a restaurant menu. Shop small this holiday season by checking out one of these wonderful chocolate shops in South Burlington.
Lake Champlain Chocolates
If it's gourmet chocolate and truffles you're looking for, you can never go wrong with Lake Champlain Chocolates. Right on the shores of the lake of their namesake, this has been known as one of the best chocolate shops in South Burlington since they opened their doors in 1983. Their holiday gift baskets are also a wonderfully festive option if you're searching for a hostess gift. Chocolate Santas have long been the most sought-after stocking stuffer, and we understand why, but why not mix it up a bit this year? Lake Champlain Chocolates makes a variety of hot cocoa mixes for a perfect warm-up all winter long!
Snowflake Chocolates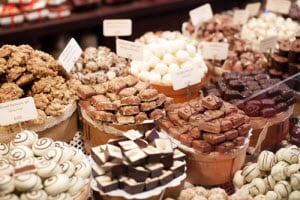 Even their name evokes the wintry wonderland of Vermont during the holidays. Just a short drive away in beautiful Jericho (with a retail store located in South Burlington), Snowflake Chocolates has been offering handmade treats since 1986. Vermont dairy and sweet maple syrup give these small batch chocolates just as much uniqueness as their name would suggest. You'll find the best selection of seasonal favorites in their Christmas and Hanukkah chocolates, including cheery chocolate Santa faces, chocolate-covered Oreos with menorah and Star of David motifs, and festive Rudolph the Red Nosed Reindeer chocolate pops.
Birnn Chocolates of Vermont
Vermonters have considered Birnn Chocolates of Vermont one of the best chocolate shops in South Burlington since it opened over a century ago. You can taste the history in every batch of truffles, which are sold wholesale to nationwide retailers. Birnn started out as a collection of retail shops, and now the family-owned business wholesales their over 100 truffle varieties. You'll be sure to find any flavor of truffles you could possible want, from tradition hazelnut and Irish cream to newfangled eggnog and sea salt caramel flavors.
We at Goss Dodge Chrysler want to encourage you to use this holiday season to shop small and continue supporting our community. Whether you're searching for the perfect stocking stuffers, table settings, or simply want to treat yourself amid the rest of the holiday season stress, we're sure one of these chocolate shops in South Burlington will have exactly what you're looking for. Remember to stay safe on the Vermont roads this winter! And, if you're in the market for some new wheels or are simply looking for snow tire recommendations, please give us a calltoday. We'll be happy to help with whatever you're looking for!