The music festival season isn't over just yet in Burlington, VT. On September 17th and September 18th, the Grand Point North festival will make its way back to town for a weekend of local eats, great times and, of course, a lineup of amazing performances.
So why should you attend Grand Point North? Here are six reasons below.
Amazing Lineup of Artists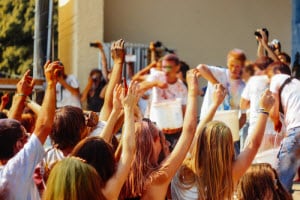 Grand Point North is one of the biggest music festivals in the Burlington, VT, area. So if there's any reason for you to attend, it's the amazing lineup. This year, you can enjoy live performances from music's biggest names. The festival is set to feature Kaleo, Old Crow Medicine Show and Eliza Hardy Jones. On top of that, both nights of the Grand Point North music festival will include a full set from Grace Potter.
The festival will also feature many more artists. Below is the lineup for both nights of the Grand Point North music festival.
Saturday September 17th
Grace Potter
Guster
Kaleo
Blind Pilot
Kat Wright & The Indomitable Soul Band
Smooth Antics
Billy Dean & The Honor Roll
Blue Button
Evansville Transit Authority
Grace Potter
Old Crow Medicine Show
The Wood Brothers
The Record Company
Basia Bulat
And the Kids
Eliza Hardy Jones
Steady Betty
Iron Eyes Cody
Sunday September 18th
Get a True Taste of Grand Point North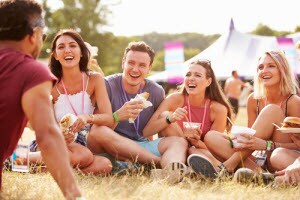 Foodies rejoice, because this year's Grand Point North music festival will welcome back Grand Point Local!
Grand Point Local is a showcase of local restaurants and local food products curated by The Skinny Pancake. Throughout the entire festival, event goers can indulge in foods from many restaurants to get a true taste of the town. Below are just a few eateries being showcased at this year's Grand Point North festival.
A-Maize-ing Kettle Corn
Brio Coffeeworks
Green Pasture Meats
Open Heath Pizza
Southern Smoke
Get Weird at Grand Point North
And if you're looking to immerse yourself in great local art, Grand Point North will once again host Grand Point Weird.
Grand Point Weird is an art installation located right on the festival grounds. It will be curated by Charlotte Potter, the glass-studio manager and program director of the Chrysler Museum of Art in Norfolk, VA, and also Grace Potter's sister.
This year's installation will feature collaboration projects created by Estaban del Valle, a Brooklyn-based painter, and students of the Vermont Governor's Institute on the Arts. For this installation, students created masks and developed performances inspired by the Abenaki creation story of Lake Champlain that will augment the live painting by Estaban del Valle.
Campout and Enjoy the Show
To get the full music festival experience, Grand North Point offers campgrounds at Burlington's North Beach Campground. Located less than two miles away from the festival itself, these campgrounds are the perfect place to settle down for the weekend.
The campgrounds come with restrooms, showers and 69 tent sites. Plus, if you want to make the grounds feel a little more like home, there are also 29 full hook-ups and 39 electric and water hook-ups.
Keep the Fun Going at the After Party
The excitement doesn't end when the festival is over. You can keep the fun of the Grand North Point festival going at the official after party!
The official Grand North Point after party will take place on Saturday September 17th at 10:30 pm at Nectar's on Main Street in Burlington, VT. During this time, River Whyless and Soule Indomitable will take the stage to perform more music.
Tickets are Available Now!
Tickets for the Grand Point North music festival and the after party are now available! Single day passes for the festival will cost $59. Those looking to attend both days of Grand North Point can opt for two day passes. These will cost $79. Admission is free for children under 12 years of age.
Admission to the after party on Saturday night will only cost $10.
The Grand Point North festival is set to feature great food, amazing art and awesome music for all to enjoy. So check out all the reasons you should attend the Grand Point North festival and get your tickets today!
For more information and event updates, connect with Grand Point North on Facebook.